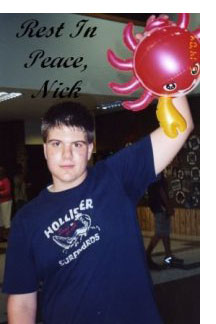 From a very young age, Nick imagined himself as Peter Pan – I was the only mom I knew who had to screw their screens closed on the 2nd Floor to prevent any flying attempts! In addition to his impulsive actions, he was also very accident prone. By the time he was 15 years old, not much fazed me in dealing with his injuries and predicaments. I was on a first name basis with his elementary school nurse and our family doctor knew he could count on seeing us monthly, or at the least, getting a medical report sent to him from an Urgent Care Center or a local Emergency Room about Nick's latest exploits.
Just to name a few: scratched cornea, (almost) completely severed tongue, cut off the tip his nose (with kindergarten safety scissors!), countless goose eggs from hitting his head on the pavement, 50 stitches in his knees from a rollerblading accident, a broken wrist from snowboarding, an abscessed staph infection in his leg after an ATV accident, and so many more that I'm not even mentioning.
I was very worried when Nick got his Driver's License, but surprisingly, he was actually a very safe driver. No tickets, no accidents (that were his fault at least). When he arrived home at curfew time that fateful night, I heard him come past my room, and I settled down to sleep. I vaguely heard his footsteps go past my door an hour or so later, but then I roused myself when I realized that I hadn't heard him come back in yet from the garage. When I got out of bed, I checked his room and then went to the garage – his car was gone. I hadn't even heard him leave, so I immediately started calling and texting him. When I heard the ringing of his phone in his bedroom, I KNEW this time was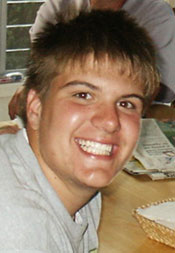 different. He NEVER went anywhere without his phone. I sat outside on my front porch, waiting. Waiting and hoping for him to show up so I could yell at him and ground him, but knowing deep in my gut that I was waiting on someone to come tell me that he had finally had an accident that he couldn't walk away from. Mothers do have an inner instinct and mine had told me that he was no longer with us on earth. I was not surprised when the policemen knocked on my door at 5:30 am.
Nick was known as the class clown and would do anything to make people laugh – he had many friends, some I hadn't even known about until his funeral. One of his oldest friends, from early elementary school on up, Ryan Morris, was killed in a moped-car accident, along with Clark Goerke, right before Ryan and Nick would have started their freshman year at Penn High School. This loss devastated Nick deeply and he visited Ryan's parents occasionally and also made the trip to Jackson, MI, where Ryan is buried, to pay his respects. Ryan's parents are the ones who donated this brick in remembrance of Nick, and I will always cherish their thoughtfulness. They were there at my house as soon as they heard the news because they knew, more than any other visitor, what kind of shock, grief and emotional numbness that I was experiencing.
When I was going through Nick's things, I found a flash drive with his music downloads on it. I had never realized how varied his tastes in music were – it ranged from Gangsta Rap to AC/DC to Johnny Cash to Drowning Pool to Jessica Simpson.  As I listened to his music, a song came on that I had never heard before and it didn't seem to be his style at all, even though his style was very eclectic. It's by Badly Drawn Boy, and the song is "Minor Incident". This song spoke to me in ways that no other person had been able to – it felt like a message from my son.
"And if the chance should happen,
that I never see you again,
just remember that I'll always love you.
I'd be a better person on the other side, I'm sure."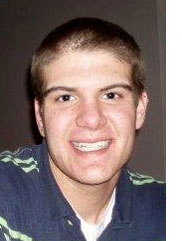 I don't have a special ending to this story of Nick because I'm continually evolving in my grief and finding out bits and pieces of his life that I had never known or had forgotten about. I will always love that boy, imperfections and all.
Not to make this story all about me, his mother, I want everyone to know that Nick was also deeply loved by his dad, his little sister, both sets of grandparents, his great-grandfather, his aunts, uncles, cousins and even more extended family and SO many friends.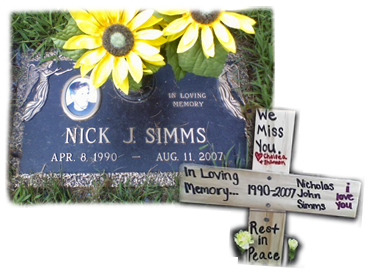 ---
Angel of Hope Michiana reserves the right to make editorial changes in any material submitted for our site