Order a 'Spot Saver' Brick
'Spot Saver' Bricks may be ordered for $100.00
We are pleased to offer 'Spot Saver' bricks which allow you to make your donation commitment and also select the brick installation location now. When you are ready to request your custom engraved brick you will only need to contact us to have your spot saver brick replaced with your custom engraving request.  All 'Spot Saver' bricks are engraved with 'Angel of Hope' on them as show in this picture.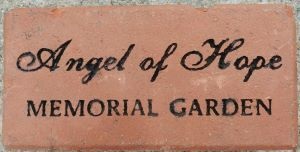 Order Your 'Spot Saver' Brick Online
Please note payments will be securely processed using PayPal.