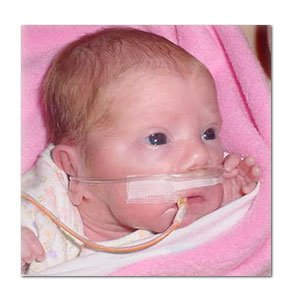 My name is Rebecca Fox. In the year 2004 I found out I was pregnant and on December 20,2004 I found out it wasn't just one baby there were two. To make things even more interesting it was boy / girl twins. My fiance and I were very excited about the multiple blessings joining our lives. In my fiance's family there hasn't been a girl in approximately 5 generations unless they have been adopted.
Well as time went on our little blessings decided they were going to make their entrance into the world one to remember they were two and a half months early. The babies were in a lot of danger because of their size. I had pre-term labor Jamie's' placenta erupted I had started the day off on the wrong foot I had contractions and the hospital had tried to stop my labor and everything they tried didn't work or it did for a short time and my labor started all over again. To my surprise my babies were born on 03/04/05 at 1:19am was Jamie(girl) and at 1:20am Joseph(boy) were born as small little miracles my emergency c-section was very scary and I would not want anyone to go threw what I've been threw.
So as they grew little at a time Jamie has some complications she wasn't urinating enough so I had to take her to Riley Children's Hospital. when she was 15 days old and all of the staff there said don't expect an answer tomorrow don't expect an answer in the next couple of days, but to my dismay they had an answer the very next day the nerphrologist had some answers. She told me my daughter wasn't going to make it if she lived more than the next few days would be longer than expected. So I called my fiance and he rushed down with the help of my grandfather because I had his car in Indianapolis. We made a decision to bring her back home so her family could be with her and give her the proper good bye.
Jamie lived for 1 month and 6 days, while her twin brother came home 1 month and 4 days after their birth, everybody says she held on long enough to make sure her brother was going to make it. The day she passed away I had been home from seeing her about 30 minute, when the hospital called we rushed up to the hospital to be with as she passed it is still a very painful experience they did the best they could to comfort her and her father held her for her last breathes, we sat there and cried holding our deceased daughter and each other.
As all of the things I wish I could change I now as a year has passed wish that we would of tried something but all of the doctors said with her condition " MULTICYCSTIC DYSPLASIC" that it is never worked on someone her size 2lbs9ozs so it is very probable that she won't make it. So instead of putting her threw all of that we let her take her own course in life yes our decision hurts everyday as I watch her twin grow. I want her to know not a day passes that we don't think of her and wonder how she would look.
Our love for her always is with us so please enjoy my story of love about our angel Jamie Lynn Glover. Thank you for helping me and people like me with sadness because of tragedy of our children.
---
Angel of Hope Michiana reserves the right to make editorial changes in any material submitted for our site