The Story of Kristopher Allen Smith
as told by his mom, Deb Starkweather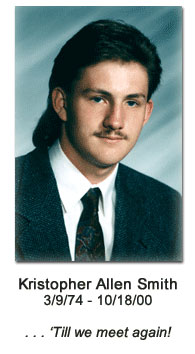 June 20, 1997: Kris is a pretty happy and content 23 year old guy. It's pay day! He now has more than $3500 saved towards a newer car. He has an ok-apartment, and a decent job. Next week, he will receive his first-ever vacation pay, and is heading north up into Michigan with his friend, Rusty. His older car is paid for and runs well, even tho it isn't the greatest looking thing. He is pretty darned self-sufficient, finally. He only stops at Mom's about once a week for a meal now! And last week, he got some great pictures of the aftermath of a nasty storm and tornado that went through the area where he lives in Edwardsburg, Michigan (much to Mom's dismay).
Saturday, June 21: Kris decides to go to a local bar in the evening. He asks his Dad to drop him off, and he says he will walk home because it's only about a mile and a half. His Dad offers to pick him up, but Kris refuses. Kris stays at the bar until after midnight and heads for home. After walking one mile, his life is forever changed. He is hit by a car.
Mom's greatest fear is that middle-of-the-night phone call. This call wasn't exactly in the middle of the night, but at 5:00 a.m. When Kris was hit, his wallet and everything in his pockets were thrown, and the police couldn't identify him. They happened across a pay stub on the road, belonging to a Kristopher Smith. They also happened across a tiny piece of paper in the road, with a single phone number written on it. That phone number happened to be mine. Why he had it written down, and without a name, will remain a mystery to me. But when the phone rang at 5:00 a.m., and a man, identifying himself as an Edwardsburg Police Officer, asked me if I knew a Kristopher Smith, and if so, could I describe him, I soon learned that mine, and all of Kris' families, lives were forever changed too.
Kris sustained a traumatic brain stem injury, and ten broken bones. He lost about half of his blood. I learned later that one of those "suits" where the blood is pushed up in his body was put on him at the scene of the accident. Over the next couple hours, he received seven or eight units of blood. He was given little chance of surviving. Of course, we weren't told this on the phone. But when we arrived at Elkhart General, and were lead into the "Quiet Room", I wanted to die. I would have given anything if I could have taken his place. When we were taken to see him, I remember wondering why they had shaved the back of his head. It turns out that it wasn't shaved, the hair was ripped out from going through the car's windshield and then from landing on the ground. His legs were very mangled, with one having a bone protruding and a piece missing. He had a collapsed lung, broken ribs, a broken scapula, and multiple scrapes and bruises. He was in a coma.
But Kris was a fighter. He spent the first month in ICU, with so many emergency surgeries (I think five on his head alone), I can't count them. He had a 3″ X 6″ piece of skull removed from the side of his head to allow his brain to swell. This piece of skull was installed just under the skin in his belly to keep it alive, and later was reinstalled in his head. He had a shunt placed to prevent excess spinal fluid from making his brain swell. He had a feeding tube installed and a tracheotomy. On Day 50, one eye opened a tiny bit. The nurses and his family were excited, but his doctor wasn't. The nurses tried to sit him up, shake him, talk to him, etc., but nothing roused him. I learned that comas are not like televison. You don't wake up from them, and go on with your life. Where the coma ended and the brain injury began is impossible to say. Depending on the doctor you talked with, some said he remained in a coma for the 40 months that he lived. He never walked or talked or moved, and his vision was very impaired, it was thought. He wore a diaper; everything was done for him.
After 106 days, Kris was released from the hospital. He was 100% total care, and was sent to a brain injury/nursing home facility in Grand Rapids. Actually, this was the only place we could find who would accept him, because we continued to battle the insurance company, who was refusing the claim ( we won a couple months later). The Saturday before Kris' planned move, we went to visit the facility. It was a horrible day. One thought kept going through my mind: KRIS DOESN'T BELONG HERE. These people were severely brain injured from airplane crashes and accidents, etc. But he did belong there. He fit right in. Reality set in.
After seven months at Grand Valley, about 11 months after the accident, in May 1998, we had Kris transferred to Healthwin in South Bend. At that time, they had two wonderful therapists, a husband and wife team named Dave and Judy. They were occupational and speech therapists. They loved Kris as they loved their own children. They quickly determined that his most alert period was very early in the morning, about 6 a.m. They drove from Three Oaks, Michigan, to be with him at that hour! They worked so hard with him, and after a short time, learned that if they placed a couple fingers on the top of his head to support his head and neck, Kris could turn his head to one side to indicate 'no' and drop his head forward to indicate 'yes'! We were soooo excited! This didn't happen all the time, and it often took Kris a couple minutes to process our question. The 'fog had to be lifted' at the moment, meaning he was alert. But it happened, and his answers were correct at least 75% of the time. Then, suddenly, Dave and Judy were released of their duties. It was obvious that this was a blow to Kris. He stopped doing the few things that he had accomplished.
In October 1999, we decided that he should be in a home environment, rather than a nursing home. We found a wonderful brain injury facility in Brighton, Michigan, three hours away and north of Ann Arbor. Kris was moved to his own room in a house with four other guys and a couple caregivers. He received daily therapy, but he never got back what he had accomplished for those few short months with The Dave and Judy Team, as we called them.
January 2000: The year started out with a trip to the ER. I had arrived for a visit, only to be met outside by one of the staff, saying that Kris was having another seizure, but this time, the medication was not working. They were trying to regulate his different seizure medications at the ER, and get him stabilized.
March 2000: Kris' shunt fails. The original shunt had been installed in his spine. It drains off excess spinal fluid to hopefully keep his brain from swelling. The new shunt is installed in his head, where most of them are. (We learned that the first one was installed in his spine, because he had had so many surgeries to his brain already). After the surgery, they cannot even get his pulse. He has pneumonia. Family is called in, and everyone drives the three hour drive. His room looks like a circus, and I am thinking, THIS IS WRONG WRONG WRONG. He is placed on the ventilator for the second time (he was on it initially after the accident). Kris' Dad and I talk it over, and agree that there will be no more ventilator IF he survives this incident. That was so hard, putting a DNR (Do Not Resuscitate) on your child. Kris was in the hospital for eleven days. He "celebrated" his 26th birthday there. He can't move, but he does inhale his breath sometimes to show he is aware. And he can cry. Since his head has to be in a certain position, or he cannot breathe, his Dad and I agree that he will not be left alone in the hospital for one second. By then, his Dad had lost his job because of all the time he missed, and he had an apartment in Brighton, where he spent every day with Kris. During the night at the hospital, sometimes I hear Kris wake and draw a deep breath, and sometimes cry. I would reach over from my cot and hold his hand and tell him I was right beside him, so that he would calm down. It was so, so sad, and my heart was breaking.
He miraculously survives this incident. I see a calmness come over him. Some say that he gave up, but I say that he was ok with it now, he was ok with dying. I knew in my heart that it wouldn't be long now. And at this point, I was as ready as a parent could ever possibly be. Kris had no life; he would not recover; he had a permanent brain stem injury. To wish him to continue living would have been very, very selfish. I talked to him about death and dying, and I told him it's ok to go. I told him we will all miss him, but we certainly understand. My prayers had changed over the past three years. At first, I prayed that he be healed. By the summer of 2000, I wanted just three things: that Kris be at peace, that he not be in pain, and that I be allowed to be with him when he made his final journey.
Tuesday, October 17, 2000, 9:30 p.m. I am in my nightgown, having just taken my sleeping pill. Sleep is a thing of the past. The phone rings. It is Denise, Kris' house mom. He is having trouble breathing and his lips are blue, and they are on their way to the ER. I asked should I come now, and she says to wait, as she will call me when they arrive. I get dressed, pack a small bag, and tell my son, David, that he should too, as I knew that this time, it was "it". At 10:00, the phone rings. Kris's Dad says his oxygen saturation level is down to about 48 (it should be between 95 and 100), and they think he has a blood clot in his lung. I say, Is he in pain? They think he probably is. I say to start the morphine going, as David and I are on our way. They tell me he will be really out of it when I arrive, and I say that his being pain-free is the most important thing. We make the three hour drive in just over two hours. Afer we arrive, Kris is taken from the ER and moved to a private room. No machines, no monitors. We are there to watch him to die. I remember thinking that this is the way he needed to die, not like back in March. He has the three people he needs most – Mom, Dad, brother David – with him. The only things that go into his body for the next 16 hours are oxygen, his anti-seizure medication and the morphine. His breath gets slower and slower, until it is one tiny intake of air every minute. At exactly 6:00 p.m. Eastern time, on Wednesday, October 18, 2000, Kris takes his final breath. I am holding his left hand and rubbing his hair. His nurse, Janice, who is his age, is holding his right hand as she suctions him. His Dad and David have stepped outside his room while she is suctioning him. I see Janice's white gloved hand holding Kris', and I realize his hand is as white as hers. I look at his face, and see the white color take over his face. He has won his Brain Injury Battle. I firmly believed he went on his own terms, when he was ready.
Afterthought: After re-reading this, I realize that I jump from present tense to past tense, back and forth, and I am wondering why. But then I know – it took me several years to sit down and write this, and for a reason. It has taken me back to those times. I guess when I write in present tense, I am re-living that moment. It's hard not to.
---
Angel of Hope Michiana reserves the right to make editorial changes in any material submitted for our site