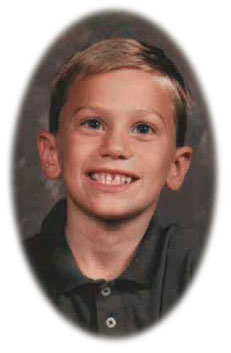 Anthony was an active, vibrant, seven year old who was all boy. I had just gotten married to John and we moved to Oklahoma for John's new assignment with the Air Force. We had a good life.
John's daughter, Melissa, came to visit us for Christmas in 1995. When it was time for her to leave, I asked Anthony if he wanted to ride to the airport. He said he didn't feel good. He proceeded to throw up and have headaches. This went on for two weeks. We went to three different doctors, and they all told is it was the flu, it will pass. Anthony's headaches ended up getting so bad that he was pulling on his hair saying, 'my head hurts Mommy, my head hurts!'. I took him to the base doctor and told them I needed answers. They did a few tests and gave me the worst news of my life. My son had a brain tumor.We were 900 miles away from family, what was I going to do? Well, I did what I had to for my son. I realized I couldn't stand worrying about it so I let the man upstairs worry about it. Anthony went through an eight hour surgery, chemotherapy, and radiation. He was a real champ. I don't think an adult could handle his new life as well as he did. He was on steroids and doubled his weight. He didn't look like himself anymore and he hated it when people stared at him. This was one thing that made him cry.
Anthony passed away on December 23, 1997. He was 9 when he died. A part of me died with him. He was my only child at the time and I felt like I was living in hell. My heart aches every single day.
He taught me a lot in his 9 short years. Now when I see a handicapped person, I give them a big smile, and I treat each day like it's the last one. I've learned that superficial things do not matter. Anthony was very sick and gave some of his money to a Salvation Army bell ringer. He said it was for someone 'less fortunate.'
"Anthony had the biggest heart
and a big smile to match."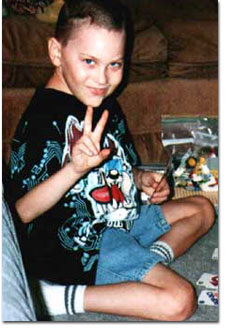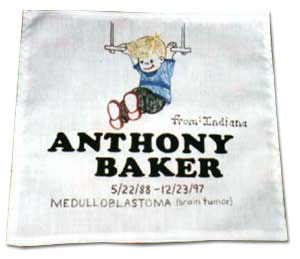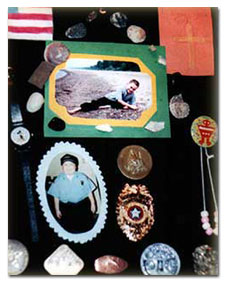 ---
Angel of Hope Michiana reserves the right to make editorial changes in any material submitted for our site