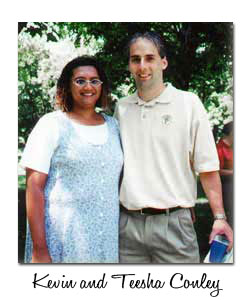 Kevin and Teesha met through the Internet. Kevin saw her message and started writing to her. They corresponded by e-mail for a couple of months, then started dating. A year and a half later we were married. The Conley's married on August 16, 1998. Two months later, Teesha was pregnant. The Conley's called their child "CJ" in their conversations while waiting to find out if they were expecting a boy or a girl. They came up with a name very early. Clarisa is kind of a mix of several different people on each side of the family. It would be Clarisa Jacqueline if it is a daughter and Casey Joseph if it is a son.
The first couple of months of the pregnancy, everything was going fine. There were no indications of problems. After they passed their first trimester the Conley's thought that they were out of the woods. Then a few days before Christmas Teesha started to have some bleeding. The Doctor said right up front that it looked like they were having a miscarriage. But then by the end of the night the bleeding had stopped. The baby was still alive and had a heartbeat and moving. The Conley's knew that they were not out of the woods, by any means, but the baby was still alive. They went home with hope in their hearts. Teesha was ordered to remain idle for several weeks of bed rest. In January she tried to return to school. She was in her senior year of college, with only one semester left.
A few days after the young couple moved to Dowagiac. Kevin was still a day or two from starting his new job. Kevin was a couple of rooms away when he heard the most blood curdling scream from his young wife. He said that he still gets chills thinking about it. Teesha was calling for Kevin. They rushed to the local Hospital. They took one look at her and moved her to Bronson Methodist Hospital in Kalamazoo. The Conley's were there for four days. Teesha had been in labor for a few days but being her first child, she didn't know what she was feeling. After a few days they took her off of the medicine that was supposed tobe stopping the contractions and it went downhill from there. The contractions came back and all the drugs they tried couldn't stop them Her water broke. Kevin never left his wife's side. After her water broke Teesha realized instantly what that means. Their first child was going to be born today. Clarisa was born alive. Neonatal doctors took her and cleaned her up and brought her over to Teesha and said, " We can try and help her, but it's not going to work. It will just cause her more pain than she is already in. What she needs now is her parents."
According to the medical records, Clarisa lived eight minutes, but it seemed like a half-hour to her parents. We got to hold her for those few minutes. Their hopes and dreams of their life with Clarisa ended that day. But they will forever carry her in their hearts. She is very real to them and will always be their first born daughter. Kevin envies the "physical connection" that his wife enjoyed with their daughter in Clarisa's brief life. He is glad that he was able to feel her kick two or three times.
Whether or not they will be able to have more children, they do not know. They had another miscarriage on the 4th of July in 1999. It has taken a lot from the Conley's. It kind of pulled them apart a little bit because they both handled their grief differently. They have found ways to work together and support each other at this hard time in their life.
Kevin Conley is a golf pro at Indian Lake Hills. In 2000 Kevin organized the CLARISA JACQUELINE CONLEY MEMORIAL GOLF OUTING. This year Kevin and Teesha had the Second golf outing to benefit the Angel of Hope Memorial Garden. It was a beautiful day and a lot of fun. The Golf Outing raised over $5000 for the Angel of Hope. Kevin said that being golf pro, he needed to do something to remember Clarisa.
---
Angel of Hope Michiana reserves the right to make editorial changes in any material submitted for our site