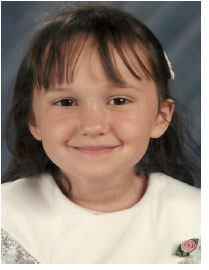 There once was the cutest little girl you would ever meet, and her name was Melinda. Melinda had brown hair and brown eyes, just like her mom. Melinda had an older sister named Brittiany. Brittiany had blonde hair and blue eyes. Although the two little girls did not look exactly alike, they were very much alike, very close, and would always refer to each other as, "my best friend". Brittiany always called her "Sissy". Their Mom would have Brittiany and Melinda dress alike, and they were two of the cutest little girls you would see. Melinda was born on the 4th of July, and once she was old enough to realize the significance of that day in America, she would ask her Mom every year, "don't you think that's really neat, my birthday being on the 4th of July?" Her Mom would always reply, "I think it's really neat, and special, and you should be proud of it, sweetie!" She would bring both her daughters together and say, "You two are very special, you're all we could have ever wished for, you are our world, and we love you with all our hearts, and we always will, forever."
Now, to say Melinda was pretty close with her Dad –would be a pretty big understatement. One special bond in particular that they had was the love for, what her Dad always referred to as "the greatest game ever", football. Her Dad would only watch one team on Saturday, Notre Dame, and then on Sunday, he would watch his favorite team, the Chicago Bears. Melinda became interested in the Bears when she found out why her little puppy had a name like 'Payton'. Walter Payton had always been her Dad's favorite player, and he would show her videos of the late, great, Walter Payton. She found her Dad's old yearbook, when he played football in school. He was never the best at football, but there was one year, one short year when he was the starting running back! That meant he could choose any jersey he wanted. Everybody wanted to be Walter Payton's number back then, #34, but there he was, the smallest guy on the team, and proudly wearing #34! On Christmas Eve 2010, Melinda surprised her Dad with Walter Payton jerseys for herself, and her Dad. She knew he always wanted one, but would not spend that much money on a shirt for himself. The two of them wore their jerseys whenever they watched the Bear's games together. They both decided, on their own, and without telling the other, that they would only wear them on those specific occasions.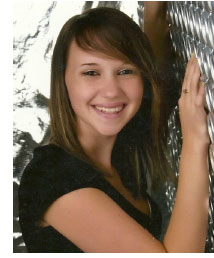 As Melinda got older, her parents tried to do special things for her birthday, and at the same time, the whole family was celebrating the 4th. They would take the girls to a waterpark, or maybe to a favorite restaurant, and then always go see a big fireworks display. Again, Melinda would always ask her Mom, "Don't ya think it's kinda neat that my birthday is on the 4th of July?" Again, her Mom would reply, "absolutely sweetie, it is neat, very special, and you should be very proud." She would always tell them both, "we may not have a lot, but your Dad and I consider ourselves very fortunate to have you both, you are very special to us, you're all we could have ever wished for, you are our world, and we love you with all our hearts, and we always will, forever."
Now Melinda always referred to her sister, Brittiany, as her best friend, and had a very close relationship with her Dad, but there was only one person that was her idol, her Mom. Melinda and her Mom were extremely alike. Ever since she was little, she would tell her Mom that she wanted to grow up and be just like her. Melinda had several nicknames like; Rascal Sue, Matilda, and Giggles. She was also known as Polly, and that came from her Momma. She would call her that ever since she was little, because she always loved to play with her Polly Pockets. The two little girls grew up before their parents eyes, they had transformed into beautiful young ladies (just like their Momma)!
Melinda had a lot of friends in school, and two big reasons for that were: 1) she had the most beautiful smile you would ever see, she loved to laugh and smile so much, 2) her Mom always told both girls to never judge or ridicule others, that no one wants to be treated unfairly and feel left out, especially when you're young and in school. Melinda never did that, and became very popular in school, but everyone knew that she put her family first.
Melinda's parents, Tim and Jenny Finneran, just wanted to give their daughters a happy childhood to remember, and the little family was very close and did everything together. They always had some kind of pet in the home. Melinda loved all animals, she had pet butterflies, mice, fish, hamsters, ants, several cats, and (her favorite) dogs.
Then came the day that no family should have to experience. It was the day after Memorial Day, 2012. There was a heavy rainstorm that came from out of nowhere. It left as quickly as it came, but not without causing some devastation first. There was a terrible accident, a horrific accident as the result of this torrential downpour. Now there are bad accidents, and there are terribly horrible accidents. In a terribly horrible accident a life is taken. In that accident, Melinda Sue Finneran was taken from this world, and the once 'happy little family' is instantly devastated and heartbroken.
The Finneran family, who once spent a good deal of time just trying to find new ways to make each other laugh, now direct the majority of their time to keep Melinda's name, and memory alive. They continue to fight off depression, confide in family and friends, and try to be strong for each other.
As for those #34, Payton jerseys, they have been put in frames and hang on the wall. They will never be worn again. Some would think this is purely ironic, or maybe a little eerie, or maybe it's just a matter of Dad having too much time on his hands, but Melinda passed from this world exactly 34 days and 34 hours before the 4th of July, which would have been her 21st birthday. If you were to come across Melinda's Mom (Jenny) today, and asked her to tell you about her youngest daughter, she would probably tell you something like this, "Melinda was born on the 4th of July, and always so proud of that, she had the most beautiful smile, she was my little 'Polly'. We consider ourselves so fortunate to have her in our lives. We love her with all our hearts, and we always will, forever."

---
Angel of Hope Michiana reserves the right to make editorial changes in any material submitted for our site