A day for 'group that no one wants to belong to' Ceremony soothes parents who lost loved ones too soon.
May 13, 2012|By LOU MUMFORD | South Bend Tribune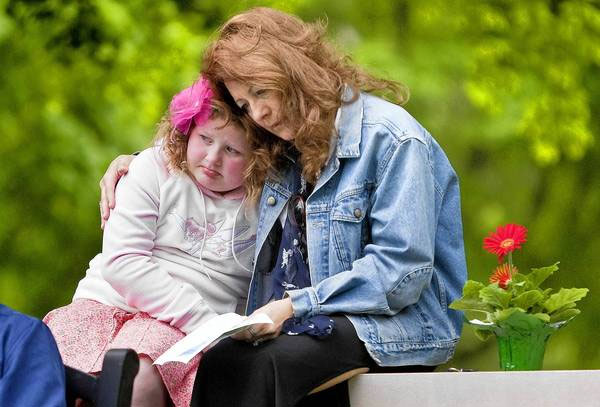 Leslie Plonka comforts her daughter, Lily Plonka-Blaine, 8, as they remember their son and brother, Anthony Lyvers, who died Dec. 15, 2011, at age 21. The two were participating in Saturdays spring remembrance program in the Angel of Hope setting at South Bends Pinhook Park
SOUTH BEND — Perhaps Mishawaka resident Donna Will put it best at Saturday's Spring Remembrance Celebration in Pinhook Park's Angel of Hope area.
"It's a group no one wants to belong to," said Will, who lost her son, Christopher Gragg, 32, to an accidental overdose of prescription drugs.
No, membership in Compassionate Friends, the support group for Angel of Hope, isn't on anyone's wish list. Dedicated in 2001, Angel of Hope provides a soothing, peaceful setting for people to grieve over children who died too young.
The area beckoned Saturday, as it usually does on the Saturday ofMother's Dayweekends when remembrance programs take place. A crowd of close to 200 showed up, many with flowers to be planted in a walled-off garden area.
Angel of Hope Executive Director Beth Berry, who lost a son at age 25, spoke from experience as she discussed the setting's healing quality.
"There's a camaraderie with other parents. The group is all about paying it forward," she said.
One by one Saturday, program participants walked by a statue and identified loved ones they were honoring with their flowers. Among the parents were Mishawaka residents Jessica and Lee Stevens, the host family for the celebration, who lost a daughter, Emma Riley Stevens, two years ago.
Complications at birth led to oxygen deprivation for 10 to 12 minutes, Jessica said, and left the infant without brain function. She was just eight days old when she died.
"It was too much to come to the first one," said Jessica, 32, regarding the spring program that followed on the heels of her daughter's death. But the family did attend an ensuing program in the fall and has been visiting Angel of Hope ever since, she said.
"It's very peaceful here," Jessica said. "It's sad we have to have this place but it's good we can be with people who understand."
Nearby was Evan Stevens. He was born in July, a little more than a year after his sister's death.
"We tell him he has an angel watching over him," Jessica said.
One of the speakers was Kimberly Stull, a Walkerton resident whose daughter, Kerrigan Hope, was stillborn at 40 weeks. The benefit from Angel of Hope has been "immense," she said, pointing out that it's difficult for people who haven't lost children to relate to those who have.
"It's almost like they're turning their shoulder. … They don't know what to say," she said.
Niles resident James L. Leak and his daughter, Jill, also were on hand, planting a flower in memory of Jimmy S. Leak, James' son and Jill's brother. He was 42 when he took his own life, James said.
"His wife wanted a divorce and he couldn't handle it," James said.
He said Jimmy was a motorcycle enthusiast and owned two such vehicles. Today, he and Jill ride the cycles in Jimmy's honor.
"I stop by his grave site, put it in neutral and rev it up a couple times," he said.